Corrosion on cars, especially in the Northern part of the US, is mostly caused by the road conditions in winter time. Roads are spread, not with just salt, but a salt mixture called brine. This brine keeps roads from being icy, making our drive safer, but is also corrosive and can cause damage to cars. Certain areas of your car are more susceptible to corrosion from brine because they hide moisture. Hoods, tailgates, fenders, doors, wheels, and wheel wells all collect brine residue and can corrode more quickly as a result. The corrosion can cause superficial as well as mechanical damage. However, you can prevent major damage by following these steps in the winter:
1. Wash Your Car Regularly
It is essential to wash your car about every two weeks in the winter in order to keep it clear of salt and brine from the roads, parking lots, and even your own driveway! The best time to wash your car is during the day when the air is above freezing, or any time when the temperature is above 40°. Make sure to wash the tires and undercarriage in order to rid your car of any brine that might be hiding in hard-to-reach places. Our Chassis Bath is popular for exactly this reason! Open and close all the doors after a wash to prevent them from freezing shut.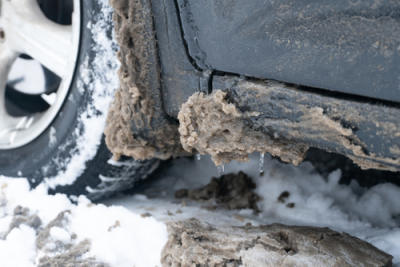 2. Wash Your Car After a Storm
Snowstorms bring with them a wave of plows moving snow and dumping brine on the roads to make it safe to drive. This makes the roads slushy and saturated with brine. If you cannot avoid driving, make sure to wash your car after driving around after a storm to get rid of any excess brine you picked up along the way.
3. Wax Your Car
Keeping your car waxed can protect the outside from brine damage. The wax repels moisture, so brine won't sit on your car, and it won't corrode your paint. Frequent waxing isn't always budget friendly -- that's why we offer Unlimited Car Wash Plans: one cost per month, all the washes you want!
4. Drive Carefully
The way you drive can help to keep your car from corrosion in the winter.
Don't follow the plow. One of the easiest ways to prevent damage is to avoid following the plow. Being right behind the plow means your car gets splashed and hit with extra salt, and that can lead to extra rust and damage.
Avoid puddles. Puddles can collect brine and splash it up into hard-to-reach places.
Don't drive in deep snow. Deep snow is also important to avoid when driving. The snow itself can damage your car's undercarriage, and also pack brine up underneath so it is difficult to remove.
Don't drive right after a storm. If possible, also avoid driving for a few days so the roads can dry and keep your car from picking up the extra moisture in hard to reach places.
5. Don't forget the inside!
The interior of your car can also be prone to damage. Purchase all-weather rubber mats to keep salt from staining your carpets, and clean the inside regularly to keep it clear of slush. Starting to see some signs of winter damage? We offer interior detailing for that!
Andy's Autowash knows cars inside and out. If you want a thorough cleaning of all the cracks & crevices of your car's undercarriage, visit us! We'll help your car keep its value & prevent mechanical damage that can result from salt corrosion.
Check out our Unlimited Car Wash Plans (including Chassis Baths!) and give your ride the treatment it deserves this winter.